Our Story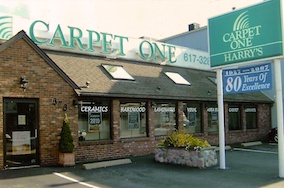 "There have been big changes in floor coverings since my grandfather founded the family business." This according to president Harry Balekjian of Harry's Carpet One in Wollaston. A third-generation family business owner, Mr. Balekjian lives in Westwood with wife Hilda and children Nicole and George.
The 8,000 square foot showroom at 676 Hancock Street has the most diversified offerings on the South Shore. We offer carpet brands such as Karastan, Resista Refresh, Bigelow, Stanton,Bloomsberg, prestige Mills, F.Schumacher and Wilton, as well as custom wood and vinyl from Amtico International and Armstrong. We carry ceramic and porcelain tiles from the finest manufactures.
As Harry says, "floors made with hardwood, cork, bamboo or ceramic surfaces, as well as made to order area rugs are popular right now". Customers can choose a carpet pattern and match it with special borders to create a unique rug. We have designers here and it's part of the service equation. "People don't realize there is a vast selection. It's not just beige carpeting or red oak flooring. The large warehouse operations don't offer the diversity of product or the service. They can't do what we can do in a timely fashion."
Come visit us at Harry's Carpet One Floor & Home today to see how much life lies behind harry's words displayed here.